Commercial Electricians Serving the St Louis, MO Area
When you own or manage a commercial property, a skilled electrician becomes essential and electrical services go beyond routine residential electrical needs. As a trusted St Louis commercial electrical company, Hoffmann Brothers has served the greater St Louis metropolitan area with our experienced, licensed and certified commercial electrical contractors for several decades.
If you need immediate commercial electrical services, call Hoffmann Brothers right away at 314-664-3011 or request service below.
Request an Estimate Schedule Service
A Proven Commercial Electrical Company for Your Properties
Hoffmann Brothers provides commercial electrical services for many different types of properties including apartment buildings, hotels, restaurants, office buildings, colleges and university buildings, supermarkets, retail shops, warehouses, industrial plants and more. Our team of commercial electrical contractors is equipped to provide outstanding service for small or midsize businesses and larger companies with multiple locations.

The Commercial Electrical Services We Offer St Louis Businesses
Utilizing the experience and skills of our Master electricians, Journeyman electricians and qualified team members, some of the most popular commercial electrical services our licensed electricians provide include:

• Breakers and Fuses
• Ceiling Fan Replacement
• Code Violation Corrections
• Electrical Installation, Repairs and Maintenance
• Electrical Outlets
• Electrical Remodeling
• Electrical Service Panels
• Electrical Troubleshooting
• Indoor and Recessed Lighting Services
• Outdoor, Landscape, and Park Lot Lighting
• Power Generator Service
• Surge Protection Services
• Switchgear
• Wiring Upgrades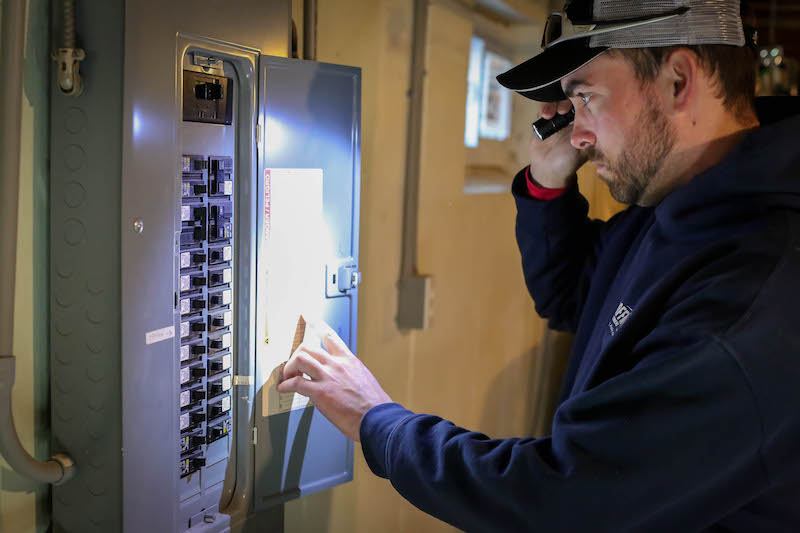 Don't see what you're looking for? Give us a call at 314-664-3011 and we'll verify a service for you right away. We handle most commercial electrical services!
We understand the complex nature of electricity in business settings and are equipped to handle even the most complicated electrical repairs and upgrades.
---
Request an Estimate Schedule Service
---
Our Commercial Electrical Contractors Put Safety First
It's critical to get your electrical work done correctly the first time, with safety at the forefront not only for your property, but for the many people that occupy it. Our team of commercial electricians know what your St Louis area business property needs in order to have proper permits on file, pass inspections and avoid common safety hazards, damage and pitfalls. Our aim is to protect your business.
Ongoing Electrical Maintenance for Your Commercial Buildings
As one of the top commercial electrician companies serving the greater St Louis area, Hoffmann Brothers' licensed electricians know how important ongoing electrical maintenance can be for any business or commercial property. We have reliable commercial financing services available so you can rest assured that your building will receive the needed electrical attention it deserves.

Prepare your business for an emergency with our property emergency tips.
Energy Savings for Your Business
Hoffmann Brothers can provide an important energy audit for your business property aimed to save you money, reduce energy consumption where it's not merited and protect the environment. Take control of your energy costs today with an evaluation from our experienced electricians.
Need to speak with a commercial electrician? We are standing by to take your call or schedule your important electrical repair. Contact us today by calling 314-664-3011 or request service below.